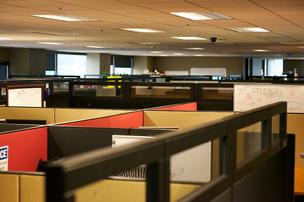 The Corliss Group Latest Tech Review
– The leadership team at online
fraud

detection

firm
iovation had a choice to make: remodel their existing 18,500 square feet in U.S. Bancorp Tower or move into new, bigger space to accommodate its growing 88-person Portland team.
They decided to stay, work with their landlord and retool what was previously a very traditional office.
The new space should hold about 100 people, which is what the company's Portland team is projected to be by the end of this year. The company currently has about 90 people worldwide. The company also expects business to grow 30 percent this year over last year.
iovation is the
latest

tech

firm
to reimagine what a workspace within a corporate tower can look like. The others were New Relic, SurveyMonkey and Webtrends.
For iovation, the company is reducing the size of workspace cubicles, from roughly eight feet by eight feet to six feet by six feet — though Vice President of Operations and co-founder Molly O'Hearn assures that they will still be roomy. The cubicle walls are also coming down in height allowing for more of an open feel and more sight lines.
Walls for offices and conference rooms around perimeter will also now incorporate glass so people will be able to see in and see the view from the 32-story perch.
"We're taking advantage of the views and being efficient," said CEO and co-founder Greg Pierson.
The company is also paying attention to the amenities in the kitchen — which employees said is an important aspect of the office — and doubling the number of conference rooms.
While the work is occurring the company has decamped to another floor in the building. The team expects to be back in the space by mid-August. The company has more than 2 billion unique Internet devices in its knowledge base and from a production standpoint the temporary move hasn't been a problem.
Corliss Group Latest Tech Review
on
Facebook